ABOUT ME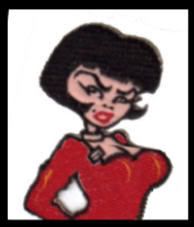 My Blogs allow me to rant and rave about movies, scrapbooking, motherhood, saving money, and whatever else I'd like. I'm finding it to be a great release for me. I hope that others enjoy it as well.


Click my name to find out fun facts about Moi

If you read my post
here
, then you know Post It had an offer for a
free gift
after you buy $15 worth of their products. I did this because they had a really good deal at the time where, with coupons, I ended up getting the Post It's free, plus a profit of $4. Then, I got the apple shaped Post It pad shown as my gift.
I just found that Post It has
another deal
where you buy 1 Post It flag and 1 Post It Note from the ones shown in the offer and get a $5 McDonald's card.
Personally, I just bought several more Post It page Markers at Wal-Mart. You can get $3 off 2 coupons at the bottom of the page
here
. Wal-mart has flags or "markers" for .97 cents each. Buy 2 for $1.94 and use the $3 coupon for a
profit of $1.06.
Thanks Centsible Sawyer for that tip.
Both deals end June 30th but the Post It coupons are good until the end of December.
Labels: $$$ Saving Tips
|