ABOUT ME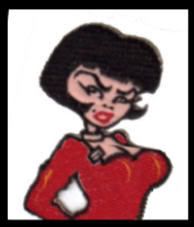 My Blogs allow me to rant and rave about movies, scrapbooking, motherhood, saving money, and whatever else I'd like. I'm finding it to be a great release for me. I hope that others enjoy it as well.


Click my name to find out fun facts about Moi

As I mentioned the other day, I got a great deal on a One Touch Glucose Monitor, described again below:
For instance, right now, at CVS, they have One Touch Glucose Monitors on sale for $29.99. Inside the boxes, there are manufacturer rebates for the purchase price, so $29.99, making it free. On top of that, there were $20 coupons for this item in last Sunday's paper. I bought the monitor for $29.99 - $20 coupon= $9.99 and I'll get the rebate for $29.99 for a profit of $20.
I did not include that in my April total but it is a great example of the deals you can get. On top of that, this week, I got 8
Post It
pads & flags. These were on sale for 2/$4, so they totaled $16. I had 4 $3 off coupons, bringing my total to $4. I then had a $3 off a $15 purchase from CVS, dropping the total to $1. Now, when you bought $15 worth of specified products, including
Post It
, you got back $5 extra credit bucks (ECBs). This is a credit to use towards your next visit to CVS. So, I made a
profit of $4.
Wait, it gets better.
Secondly, I had a coupon for $4 off $20 beauty products coupon. These expired yesterday which is why I'm not listing links where to get them.
Sorry
. So, I bought 2
CoverGirl
compacts for $7.99 each and 1
CoverGirl
concealer for $3.99 which got me close enough to $20 as I could get.
The $20 minus the $4 coupon brought it to $16. I also had a $1
CoverGirl
coupon, making it $15. On top of that I had a buy one
CoverGirl
get one free, so minus $7.99. The new total being $7.01.
Here's where I got an unexpected bargain. In fact, I didn't even know what had happened until I got out of the store and looked at my receipt. Apparently a new sale started today on
CoverGirl
products for buy 1 get 1 half off. Though it was a day early, I got the deal anyway. Thus, got an extra $3.99 off, bringing the total to $3.02 and I had another $4 off a $20 purchase that you get when you sign up for email offers at CVS.com.
At the end they owed me .98 for the makeup, but don't forget the $1 on the
Post It
s. Making the whole thing a wash. All I had to pay was tax and I paid that with a CVS gift card I got for free.
**Hot Deal**
I also had a coupon for 10 free photo prints. I can't for the life of me remember where I heard about this, but if you go to
The Washington Post
and sign up then you'll have access to their past issues. Once you click on the paper, there should be a calendar on the top bar. Find April 24th. Over to the side you can browse the pages. On the last page, there's a full CVS ad. At the bottom where you can print, you can select "print custom area" to highlight only the coupons. There is a $3 off $15 purchase coupon along with a coupon for 10 free prints when brought in on a camera card or picture CD. These do not expire until 6/6/08 and you can print as many as you'd like for multiple visits.
At the end of my CVS visit, I had 5 ECBs for next time and another $3 off $15 purchase that printed with the receipt.
Plus
Post It
has a free gift when you buy $15 worth of their merchandise. You can print the form
here
.
**Hot Deal**
CVS has another deal I got from
SlickDeals.net
for even more free photos:
Steps to follow to get 60 Free Prints:

1. At the CVS Photo Center,click on "Start Now" to create an account w/ your email and ExtraCare Number
2. CVS will instantly send you an email link to connect to & credit you
w/ 50 free photos
3. Under "Order Prints"section (you may have to upload a photo to get to
this page), click on the "Do More with Your Photos" on the right side of the
screen. Another 10 prints will be credited to your account

Labels: $$$ Saving Tips
|