ABOUT ME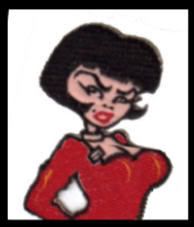 My Blogs allow me to rant and rave about movies, scrapbooking, motherhood, saving money, and whatever else I'd like. I'm finding it to be a great release for me. I hope that others enjoy it as well.


Click my name to find out fun facts about Moi

Yesterday was my first Mother's Day.
Yea Me!
I know that it's not like New Year's where you make a resolution, but that's exactly what I'm doing.
It's time to bring sexy back,
or as close as I can get to it
and lose the pregnancy weight!
Okay, it's not even the pregnancy weight. Truth is, I did really well during my pregnancy. I only gained 35 lbs. I ate right, drank tons of water, and all that jazz.
I then lost the weight I'd gained pretty immediately after having my 10 pound baby. The problem is that I wasn't expecting to lose it that fast and it tricked my mind into thinking I had super metabolism. So I ate all the things I denied myself when I was pregnant and ended up gaining 10 lbs. That on top of the weight I've gained since I was in high school, leaves me wanting to lose 40 lbs.
To give you an idea of what I'm talking about, here is a picture of my husband and I back in the day:
I was feeling pretty good about myself back then. And here is what we look like now:
Notice, that I didn't put a full body shot, nor will I at this point. It's not that I expect to look like I did when I was young. I just want to be healthy and more energetic for my baby's sake. I especially don't want him to have the same eating habits I have now. So, that's it. I have to make a change for both my baby and myself.
I'm not exactly sure how I'm going to go about this just yet, but I'm hoping that posting about it will make me feel accountable. So, when I post next week, hopefully, it will be good news.
So far today, I had a healthy Special K breakfast bar and I did some Wii DDR. If you don't know what that is, click
here
. It is a real work-out that is truly fun.
On a different note, but very much going along with Mother's Day, I will be joining the MommyFest Blog Party May 12th thru the 16th. I invite any other mother's to join along. I'm hoping to make some new friends and have some fun in the process.
I have listed 20 things about myself
here
. Take a look:
Labels: Motherhood
|