ABOUT ME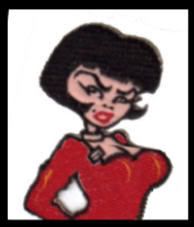 My Blogs allow me to rant and rave about movies, scrapbooking, motherhood, saving money, and whatever else I'd like. I'm finding it to be a great release for me. I hope that others enjoy it as well.


Click my name to find out fun facts about Moi

For the 5th Annual MommyFest, I will be doing a little giveaway of my own. Included will be a bunch of coupons (not on-line, printable coupons) so they will be accepted everywhere coupons are accepted. -And- the 3 x 5 Dishwasher dirty/clean magnet shown below.
I actually make and sell these magnets for $2.99 each. They are lightweight, flexible magnets, with a laminated top and a fully magnetized backing.
Pictures will face upwards when dishes are dirty and then you simply flip the magnet around as needed. While most dishwasher magnets only give you the option of letting you know when the dishes inside are clean or dirty, I also included "empty" to let you know when the dishwasher has already been emptied; so you don't have to keep checking unnecessarily. I also included "unload me" for those of us who want to leave a message for your children, roommates or spouses.
If you do not win but would like to buy a dishwasher magnet, or any magnet for that matter, you can either click on my ecrater store to the side, or use this link
Kel's Hideaway
. I have been a seller on ebay, ecrater, iOffer, etc for about 6 years now. I have recently halted my listings with ebay in protest of the way they treat their sellers, but you can certainly look up my feedback record there if you'd like.
If you want to enter to win the prizes listed, then simply post a comment anywhere on my blog. I will notify the winner at the end of MommyFest.
Also, it's Tipster Tuesday @ BeCentsAble's blog. I just got a great tip from my sister that CVS pays you Extra Care Bucks for filling out surveys for them. Here's
the link
. $5, $10 and sometimes $15 ECBs. I can't wait to get started!
Lastly, here's my "Tuesday Toot" where I get to toot my own horn. I am showing great restraint with my diet so far. Yes, it has only been 2 days, but I am a huge late night snacker and it's actually really hard to give up. So, I'm proud of myself.
Labels: $$$ Saving Tips
|