ABOUT ME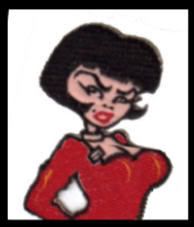 My Blogs allow me to rant and rave about movies, scrapbooking, motherhood, saving money, and whatever else I'd like. I'm finding it to be a great release for me. I hope that others enjoy it as well.


Click my name to find out fun facts about Moi

I've been making some changes to my blog's appearance and I thought I'd share how I did it.
ADDING FEED TO YOUR LABELS:
Thanks to Purple Moggy who helped me add feed to my individual labels. Now, if you click on the

to the side of my labels, you can subscribe to the feed for that particular category.
This came in handy for me because I wanted to add my movie reviews to my other blog,
On My Lists
. It also is helpful to those who have blogs about many different topics so that if a reader is only interested in one particular topic, they can subscribe specifically to that.
You can do this too. All you have to do is go to Layout -> Edit HTML. Download Full Template so that you have a backup copy just in case. This is important to do no matter what changes you are making on your blog. Then you want to follow the instructions on given
here
.
ADDING CLICKABLE PICTURES:
To add my clickable pictures like my name "Call Me Kelly" above, I used Blogger Buster's cheat guide you can get
here
. Everything you need to know is on page 39, but the whole guide is really helpful. I highly recommend it for those wanting to make their blogs their own. Wanting to skip the whole guide and just want clear cut directions on how to make your pictures clickable links, BlogU has what you need
here
.
Labels: Blogging
|