ABOUT ME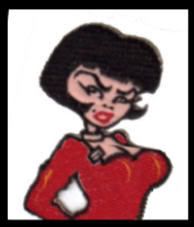 My Blogs allow me to rant and rave about movies, scrapbooking, motherhood, saving money, and whatever else I'd like. I'm finding it to be a great release for me. I hope that others enjoy it as well.


Click my name to find out fun facts about Moi

I do not understand why American Idol doesn't have us vote for the person we want off each week instead of the person we like best. There are weeks when I'm not sure who I like best, but I usually have a very easy time deciding who should go. This week, Jason Castro needs to go and I say that as a person who likes Jason.

I just don't think his heart is in the competition. I don't think that he's mature enough to realize the opportunity he's being given and to take advantage of it. Like last night, for instance, he did Bob Marley. Bob Marley songs are great because they're done by him and because of their message. Not every young kid with dreads can do Bob Marley.

Speaking of someone trying to take on something beyond them, Syesha did Sam Cooke's "A Change Is Gonna Come". A song written about the civil rights movement and she actually compared it to what she's going through on American Idol. Wow, I don't have the words to describe how ridiculous that is.

I think it's definitely got to come down to the two Davids now.
Labels: TV
|