ABOUT ME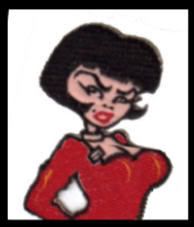 My Blogs allow me to rant and rave about movies, scrapbooking, motherhood, saving money, and whatever else I'd like. I'm finding it to be a great release for me. I hope that others enjoy it as well.


Click my name to find out fun facts about Moi

I'm kicking myself that I didn't get any pictures of the whole scene after it was done. Thankfully, I snapped this pic in the midst of decorating. I wish it was clearer, but I was sure I'd get more. Frankly, the party went so fast, between entertaining, pictures and videotaping, I didn't get everything like I would have liked.
You can see we did a spider above the light with streamer legs. There are red polka dot "ladybug" and yellow striped "bee" balloons up in the corners.
We did big green grass around the house with bugs.
I had a huge cardboard tube that I knew I had to use, so I covered it in crinkled paper bags and topped it off with green balloons to make a tree.
My husband then made
bugs
out of glue and wire that we stuck on the tree and on the pinata.
The beehive pinata was my first so I reinforced it with yellow yarn just in case it wasn't structurally sound. You can't tell, but I used a punch balloon and so it was huge. I filled with candy, of course, but added some bugs as well.
The other game I did quickly, was pin the spot on the ladybug. It was a last minute thing and I didn't stress over it. You can also see that I had a Caterpillar tunnel laid out in the main area for the kids.
We did a butterfly net outside, in the front.
I don't know what my thought was with this flower except that I had this planter and wanted to do a playful oversized flower.
I made bug antenna out of some cheap headbands, pipe cleaners and puffballs.
The banner was kind of a challenge because I was given a calendar with these pics on it and was asked to use it in the party, but wasn't sure how I was going to do that. I thought of place mats, but decided on this instead. It wasn't what I'd originally planned for a banner, but I actually liked the way it turned out.
As far as wrapping went. I did not want to buy wrapping paper. I had some colored paper and so I just stamped it, colored it, etc. Again, I didn't stress over this part of the party.
You can't have a picnic without a picnic basket. Well, all I had was a sewing basket with sewing decor around the edges. So, I bought some clearance watermelon ribbon and stuck it on with some tape. Nobody was the wiser.
Finally, I made another Jax shirt with the above image for my son Jaxon. Here is
last year's Jax shirt
, which I did using the game jacks.
Labels: Crafting, Holiday/Events
|