ABOUT ME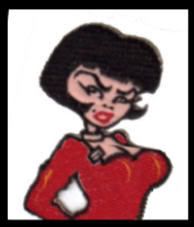 My Blogs allow me to rant and rave about movies, scrapbooking, motherhood, saving money, and whatever else I'd like. I'm finding it to be a great release for me. I hope that others enjoy it as well.


Click my name to find out fun facts about Moi

So, for my son's 3rd birthday, the whole theme came from my wanting to do the
grill cupcakes
(shown below) from
Family Fun
magazine. I thought grill- picnic, picnic-bugs. There you go, now we have a boy theme. Next step was invites. I didn't like any invites I was seeing so I did my own from scratch. Here's what the front looked like folded:
The "Indoor picnic" part actually folded down and when you opened it, there was a shoe that folded up. Both folds held confetti bugs that fell out when opened. It might sound confusing and, believe me, it wasn't the easiest thing getting everything to line up; but it all came together nicely in the end. I also did special address labels and stamped a big bug on the envelope for an extra touch.
As I mentioned food inspired, but also became a big centerpiece for, the party. We did hot dogs on a roaster, lemonade, "bug juice" from a cooler, ladybug Hors D'oeuvres, everything you'd want for a picnic; but the deserts were the real crowd pleaser.
We changed the frosting a bit on the grill cupcakes, using red, instead of brown for a more fiery touch.
We also did
cheeseburger cupcakes
that turned out even better than expected. I mean these looked and tasted awesome! Kudos to my husband for doing these.
My mother-in-law did a spider cake along with some bee and bug cookies:

The table was complete with baskets and silverware covered with flyswatter papers. I made these myself on my husband's suggestion. What would I do without him?
I'll show decorations, party games and gifts in my next post.
Labels: Crafting, Holiday/Events
|