ABOUT ME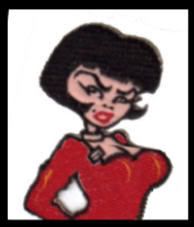 My Blogs allow me to rant and rave about movies, scrapbooking, motherhood, saving money, and whatever else I'd like. I'm finding it to be a great release for me. I hope that others enjoy it as well.


Click my name to find out fun facts about Moi

So, I'm starting on my Halloween crafts for the year, or at least planning to. Thought I'd share my finds:
I saw these "
Halloween Candy Cauldrons
" last year on CTPubBlog last year but didn't get a chance to make them. I hope I have time this year though because I think they're neat and they don't look that hard to make.
I Love to Create
has these great necklaces made from Tulip 3-Dimensional Slick Paint. I love them!
Thanks to Purple Trail for this
spooky spinners
idea. How awesome!
Frankenstein Head
-
Free Kids Crafts
uses cotton inside just as a fun thing, but I would think you could use they're printable on a container and put candy in it. That's just me though.
I could probably do a whole post on just paper plate crafts, and just might. For now though, I thought this pumpkin was good inspiration. Just like with real pumpkin faces, your kids could get creative here.
These
Ghostwriter finger pens
are
a must do craft for me this year.
Is it wrong that I want this
Toadstool hat
for myself and it has nothing to do with Halloween? I just really love crazy hats.
Who doesn't have an old white tee to use for this simple
ghost craft
from BHG? Better home & Gardens has a lot of good kid crafts, including this
pumpkin hat
. I know I said no more paper plates, but this is a paper bowl. So cute.
Labels: Crafting, Holiday/Events
|