ABOUT ME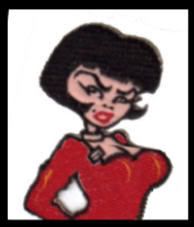 My Blogs allow me to rant and rave about movies, scrapbooking, motherhood, saving money, and whatever else I'd like. I'm finding it to be a great release for me. I hope that others enjoy it as well.


Click my name to find out fun facts about Moi

Ucreate
shows you how to turn decorative grapevine balls into a
festive snowman
. I say festive, opposed to the other kind.
Well, you should know by now that I love winter hats. This
reindeer hat
is funny and yes, I would wear it if someone made it for me.
Glittery Foil Icicles
-oh goody, a way for me to recycle my Chipotle Foil!
Huge List of Free Gift Tags
at Bella Dia
Make Baby Stuff
had a great idea for using a punch to make gift tags from your kids art. Love it!!!
I saw this
Hershey's Kissletoe
over at
Purple Trail
and think it's pretty funny. I'd do different colors, but still...
Labels: Holiday/Events
|