ABOUT ME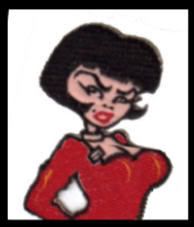 My Blogs allow me to rant and rave about movies, scrapbooking, motherhood, saving money, and whatever else I'd like. I'm finding it to be a great release for me. I hope that others enjoy it as well.


Click my name to find out fun facts about Moi

My son's b-day is coming up, so I have been on the lookout for some unique gifts and thought I'd share my finds:
Polliwalks
- I love these!!! It's getting a little late in the year for them now; but next year, I'm getting some for sure.
Funky Moose
(UK) sells these adorable " daysacks". They have a cow one and turtle one too, all so cute. They actually have a lot of cute things, but I'm not big on ordering toys on-line just because you can find cool toys everywhere. These bags are a different story. Thanks to Giver's log for the find. She has a whole article on
neat backpacks
.
Apparently, I like the bee theme because I am also drawn to Kidorable's bee umbrella. You've probably seen
Kidorable
rainwear and things around, but thought I should mention it for those who hadn't.
Labels: Motherhood, Web Sites
|