ABOUT ME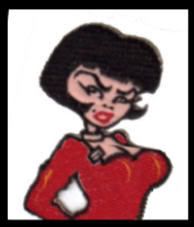 My Blogs allow me to rant and rave about movies, scrapbooking, motherhood, saving money, and whatever else I'd like. I'm finding it to be a great release for me. I hope that others enjoy it as well.


Click my name to find out fun facts about Moi

This ought to make my husband happy. Though not a
Star Wars
fan myself, I have to admit, this
Yoda Hat
from
Dollar Store Crafts
is cute. I might have to make my son one.
For those who associate Fall with Halloween and the Macabre, like I do, you should check out
Skull-A-Day
. This site posts, guess what, a skull-a-day. I just happened upon this great skull shirt on their site and had to include it.
NO SEW Ribbon Scarf
from
One Hour Craft
, a new blog I'm loving. I think the title says it all.
I just love this sweater by
The Devil Made Me Do It.
I love the colors and how warm and comfortable it looks. It reminds me of a scrapbook page and that's awesome!
Labels: Crafting
|