ABOUT ME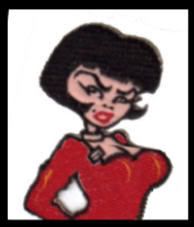 My Blogs allow me to rant and rave about movies, scrapbooking, motherhood, saving money, and whatever else I'd like. I'm finding it to be a great release for me. I hope that others enjoy it as well.


Click my name to find out fun facts about Moi

According to The Green Head, these
Pumpkin Ottomans
are only $25 at Macy's I think. They seem well worth it to me because I doubt I could make them for much less than that, considering the time involved.
Laundry Monster
- I saw this on Dollar Store Crafts and thought it was fun. It doesn't have to be for Halloween, but why not use it as an excuse to make one.







Martha Stewart's Fun house Mirror
. Okay, here's the deal, I would use this year round because I have always wanted a fun house mirror in my home. Anytime I see one, I think how nice it would be to look in a mirror and laugh from time to time.
Of course, Martha has tons of other very cool stuff. Here are a few of my other favorites:
Hanging Vellum Lanterns
-She shows snakes and frogs, but this idea could be used for any pics.



Coffin Table
- Why didn't I think of this?






Candy Wreath
- To me, this might make more sense to make up some fake candies using colored cellophane and whatever you have a lot of to make the shape. If you made them bigger, it wouldn't take so many. It would still look like candy, but you could keep it around for years to come.
Labels: Holiday/Events, Home
|