ABOUT ME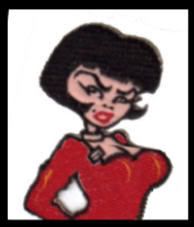 My Blogs allow me to rant and rave about movies, scrapbooking, motherhood, saving money, and whatever else I'd like. I'm finding it to be a great release for me. I hope that others enjoy it as well.


Click my name to find out fun facts about Moi

I realize it's a little early, but if you're like me, you have to get a head start on fall projects if you want them in time to actually use them. Here are some good ones I found:
Tied Quilt
- As I've mentioned before, I don't sew, or at least not well. Thus, this project is right down my alley.
How awesome are these slippers? Found them on
Etsy
. Of course I wouldn't buy them but they are inspiring.
Equally cute, this
monster hat
is a must project for me. Of course I might just find a brown hat and embellish. That's more my style.
Bunny hat and paw mittens
-Are you kidding me? These are darling. Keep in mind, Halloween is just around the corner.
Labels: Crafting
|