ABOUT ME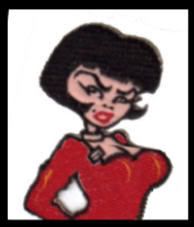 My Blogs allow me to rant and rave about movies, scrapbooking, motherhood, saving money, and whatever else I'd like. I'm finding it to be a great release for me. I hope that others enjoy it as well.


Click my name to find out fun facts about Moi

I recently had a Harry Potter party for my husband's b-day. I know, it sounds corny, but I tried to make it as age appropriate as possible; and no, there weren't any costumes. We're dorks, but we have our limits. We'll save that for Halloween.
It actually all started when I was trying to find Harry Potter candy on the net. We tried 4 different stores and no one had any, not even Bernie Bott's. Finally, I found them at Toys R Us; but before that, I came across a site
Little Ant Design
. On it, there were great ideas for a Harry Potter party and the thing is, we're both huge fans, his B-day was coming up and I thought "why not?".
Turns out there were some reasons why it wasn't a great idea. One, our anniversary was 5 days before and I was so busy preparing for that, I only gave myself 4 days to focus on the party. Given that, however, I think I did pretty well.
Here are some of the highlights:
Yes, I made a leather sorting hat. I got the idea
here
and had to have one. Mind you, mine looks a little evil, but I'm just glad I finished it in time. I then went on to make labels for the candy, including:
Bloodworms
Butterscotch Pastilles
Cockroach clusters
Drooble's Cotton Candy
Licorice Wands
My niece made signs for Three Broomsticks, HoneyDukes and The Leaky Cauldron that are in the windows. My mother-in-law brought the glasses because she thought they resembled Harry's.
I made my own version of Little Ant Design's Hogwarts Express Tickets. Included with mine was the
Marauder's Maps found here
with folding instructions. Instead of a wax seal, I just heat embossed with gold powder that I already had and it worked really well.
My niece made Daily Prophets on tea stained paper. She also brought her time turner... seriously, it's in the brown box.
Finally the table is finished off with house certificates. I had printed them on paper with the house colors on back and had planned to roll them like scrolls with ribbon. I just ran out of time.

I then made a die with the house letters on it and people rolled to see which house they were in.


On top of candy labels, I also made ButterBeer (Root Beer), Blood Mead (Strawberry) and Pumpkin Juice (Orange) labels. No, there's no such thing as Blood Mead, but I had to improvise some. You can get the labels here, though I had to manipulate them to fit my needs.



I used edible glitter on the rims of mugs like I saw at Heather Bailey's site. She has instructions on how to make the brooms we used on the Three Broomsticks sign, only she used them in the drinks.



My niece made the house banner above. We then threw the Hogwarts Express sign together in a matter of minutes because I desperately wanted it but had totally forgotten it. Luckily I had painted an old canvas ahead of time. Then it was just a matter of printing out the letters and circle emblem and attaching.


One of the more time consuming things I took on, besides the hat, was individual labels for potion bottles. I have had these bottles for over 10 years, knowing one day I would use them and this was perfect.
If I'd had more time I would have aged the labels too but it was a minor detail.
I came up with some pretty creative ingredients if I do say so myself. My favorites were cereal straws as Unicorn Horns, chewed gum as Doxy brains, fruit bar as frog hearts. I did everything from weeds with baby oil for gilly weed to muddy water for polyjuice potion, to honey, dish soap, tea, and glue.
Of course, we had things like HP music playing, HP books along with spell books were displayed. Don't ask why we just have spell books, we're just kooky like that. Gosh, maybe we are dorks.
Labels: Holiday/Events
|