ABOUT ME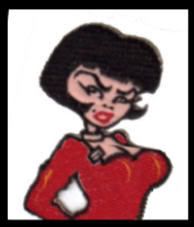 My Blogs allow me to rant and rave about movies, scrapbooking, motherhood, saving money, and whatever else I'd like. I'm finding it to be a great release for me. I hope that others enjoy it as well.


Click my name to find out fun facts about Moi

When looking for party ideas, I came across a lot of cool HP things that I didn't have time for or weren't right for what I was doing.
For one thing, it's important to know the house colors.
MuggleNet
explains why the colors are what they are. They pretty much have anything else you'd want to know as well. Their media section is definitely worth checking out for downloads and recipes.
There are just a ton of cool HP crafts at
The Leaky Cauldron
and I do mean
TONS
!!! Everything from how to make Death Eater's Masks to Cornish Pixie dolls. I especially wish I'd had more time to look over these for my party. I think you have to register to see them though.
Wizard Store has some cool stuff but my favorite idea is a
monster book
.
Potter Parties
has a bunch of ideas, but not enough pictures for my liking. With just a little more work, this site could be great.
For potion/ingredient lists, I liked
HP Encyclopedia
the best. They have a big header section, but scroll down for the info.
For food ideas, try
Harry Potter Lexicon
. It doesn't have recipes, but it has all the info you need to plan complete HP meals, with snacks and drinks.
Scholastic
has some good downloadable posters and bookmarks, etc.
Here's a pretty good tutorial on
how to make a golden snitch
. I was going to use gold x-mas bells as an easy alternative, but decided against it. I also thought of hanging a old key for use in scrapbooks with wings.
At
Harry Potter Wall Art
, there are a lot of clear images of all things Harry Potter.
Beads and Beading
has some tutorials on making HP Polymer Clay charms along with Luna Lovegood's Radish Earrings.
For us bloggers, Icon Archive has some
HP icons
that are worth checking out.
If you were planning for a younger kids party or even just for fun, here are some links for printables:
HP Teacher's Edition
-has printables sorted by movie
House Badges
and whole party plans at
Amazing Moms
Now, if I'd had more time, I would have loved to have followed Photo JoJo's tutorial on
how to make moving pictures like in HP
. That, and I even looked up how to make holograms to possibly hang on the walls. I still might do this because that's just awesome.
Labels: Crafting, Holiday/Events, Movies
|