ABOUT ME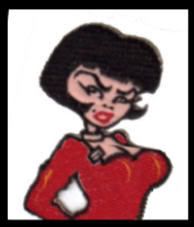 My Blogs allow me to rant and rave about movies, scrapbooking, motherhood, saving money, and whatever else I'd like. I'm finding it to be a great release for me. I hope that others enjoy it as well.


Click my name to find out fun facts about Moi

Don't have too much time to post, but had to share some things I've been finding around the net:
No-Stop Halter Top
-this just looked easy and different.
Smarmy Clothes
...Wow! That's all I have to say.
Now if I only had the body to pull these things off.
Mezzi from Craftster has a good
tutorial on making hoodies
out of T-shirts.
Leah Felicity
did these shirt designs using bleach. I've made some bleach designs myself, mind you they were by complete accident and without any pattern. Maybe now I've found a way to salvage those things.
I'm a big fan of altered clothing by
Maraleopard
:
Generation-t
has a great book on altered Tees, but also a great website out there.
Labels: Crafting
|