ABOUT ME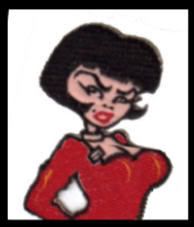 My Blogs allow me to rant and rave about movies, scrapbooking, motherhood, saving money, and whatever else I'd like. I'm finding it to be a great release for me. I hope that others enjoy it as well.


Click my name to find out fun facts about Moi

Here are some photos from Tim Burton's Alice in Wonderland, to be released in 2010:
Johnny Depp as the Mad Hatter
Helena Bonham Carter as the Red Queen
Anne Hathaway as the White Queen
British comic Matt Lucas as Tweedledee & Tweedledum
Mia Wasikowska as Alice
The cast will also feature Alan Rickman (Snape from Harry Potter) as the The Caterpillar, Christopher Lee as Jabberwock, Stephen Fry as Cheshire Cat and Crispin Glover as The Knave of Hearts.
Labels: Movies
|