ABOUT ME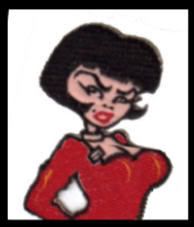 My Blogs allow me to rant and rave about movies, scrapbooking, motherhood, saving money, and whatever else I'd like. I'm finding it to be a great release for me. I hope that others enjoy it as well.


Click my name to find out fun facts about Moi

My husband and I went and saw
Public Enemies
with Johnny Depp and Christian Bale. For anyone who doesn't know, it's about infamous bank robber, John Dillinger, back in the 30's.
While it follows both Dillinger and the agent trying to stop him, Melvin Purvis (Bale), it is mostly told from the "bad guys" point of view. Thus, we get to know Dillinger and begin to root for him. Of course, this being a true story, you know it doesn't end well. However, you can't help hating the people who take him down.
It took place during the depression, when regular people cared little about businesses getting ripped off. In fact, the public routed for Dillinger much like the viewers do.
J. Edgar Hoover was in charge of the FBI at this point and when Dillinger became the Public Enemy #1, fleeing from state to state, national laws were put into place where none had been before. So, in a way, it changed the way crime was done and how it was punished.
I thought the movie had an interesting cast, with all kinds of familiar faces popping out of the woodwork. Johnny did great, of course. This wasn't his typically, off the wall movie, but it was solid.
Personally, I love watching movies about this time. Tommy guns and gangsters, that's good stuff. If you agree, then I highly suggest checking out PBS's site on the
facts about John Dillinger's life
.
Labels: Movies
|