ABOUT ME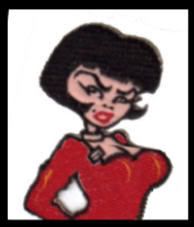 My Blogs allow me to rant and rave about movies, scrapbooking, motherhood, saving money, and whatever else I'd like. I'm finding it to be a great release for me. I hope that others enjoy it as well.


Click my name to find out fun facts about Moi

I decided to do a shirt card for my husband for Father's Day so I'm hoping my husband isn't reading this. I found this great Origami
tutorial here
or just hit play below.
Now she does this on a small scale, but I took the measurements and increased by about 2 inches. Basically, I started with a 12 x 12 scrapbook paper, folded it and then followed her instructions for one half of the paper so that mine would be a folding card.
Here are some variations on this idea:
I found this one on one of my favorite Scrapbooking sites,
Two Peas in a Bucket
. I like that it has sleeves and a bit more detail.
This was made by
Southern Bliss
. If you want to ditch the tie, buttons make a great addition.
Labels: Crafting, Holiday/Events
|