ABOUT ME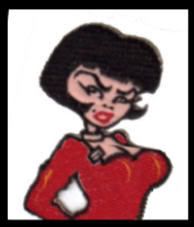 My Blogs allow me to rant and rave about movies, scrapbooking, motherhood, saving money, and whatever else I'd like. I'm finding it to be a great release for me. I hope that others enjoy it as well.


Click my name to find out fun facts about Moi

I found a new site that I'm loving! I've actually blogged about
Crafty Nest
before, but I just can't get enough. Check out some sample posts and bookmark her for sure. She rocks!
Postcard "tapestry" tutorial
. This could just as easily work for photos or any kind of memorabilia.
faux capiz shell lampshade tutorial
Handmade stencils tutorial
Hanging Jar Lights- Super easy, but with big effects. You could use a wide array of jars and some wire.
Pants hangers + drawer pull picture hangers. This would be nice because the pics could easily be switched out and with a rapidly growing baby boy, I am looking for something I can keep updated quickly.
Wooden tissue box cover "transformed from eyesore to mod"