ABOUT ME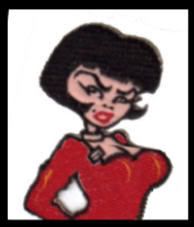 My Blogs allow me to rant and rave about movies, scrapbooking, motherhood, saving money, and whatever else I'd like. I'm finding it to be a great release for me. I hope that others enjoy it as well.


Click my name to find out fun facts about Moi

Staying on the art theme for a minute, I thought I'd share some of my pics from our last visit to the Nelson-Atkins Museum and my favorite, the Kemper Museum of Contemporary Art here in Kansas City, MO.
I was trying to get things from different perspectives and I think I did pretty well.
This is my favorite piece at Kemper. It's a staple, "Untitled" by
Petah Coyne
. The pic doesn't do it justice. It's actually all of these small pieces that look like they're covered in wax or tar.
Labels: Personal
|