ABOUT ME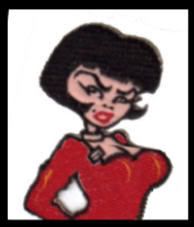 My Blogs allow me to rant and rave about movies, scrapbooking, motherhood, saving money, and whatever else I'd like. I'm finding it to be a great release for me. I hope that others enjoy it as well.


Click my name to find out fun facts about Moi

A couple weeks ago my husband and I decided to go to Savannah on vacation. We had been to Georgia before but not that far east. It was a part of the country unexplored by us in the past and so it was appealing.
Typically, when we go places we like to do the things that the place is known for. So with Savannah we thought ghosts and food. Now, I'm not big into the whole ghost hunter thing. Still, it was fun going around to all the supposed haunted sites.
More than anything, I was excited to see the Mercer House from the
Midnight in the Garden of Good and Evil
. I'm a big Kevin Spacey fan and have my degree in criminal psychology so this was interesting for me on 2 levels. Honestly, it wasn't as big as I thought, but the architecture, in general, is amazing. It reminded me a great deal of New Orleans, but I actually liked Savannah better.
The people were amazingly nice. I guess that's where southern hospitality comes from. The food was awesome! We actually met one of Paula Deen's sons at her restaurant. Her gooey butter cake is possibly the best dessert I've ever tasted. The trip was worth it just for that, honestly.