ABOUT ME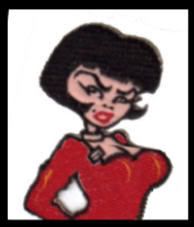 My Blogs allow me to rant and rave about movies, scrapbooking, motherhood, saving money, and whatever else I'd like. I'm finding it to be a great release for me. I hope that others enjoy it as well.


Click my name to find out fun facts about Moi

Today, the world has lost the best artist of my generation, Michael Jackson. It's a shame that so much controversy surrounded his life, but I remember when ...
I remember seeing
Moonwalker
at school and thinking I was going to marry him. I remember rushing to play his new tapes as soon as I got them, records too. I remember watching him dance in absolute awe of his gifts. I remember singing
Man in The Mirror
in Choir.
I remember collecting everything I could; things that I still have to this day. In fact, I still have the shirt I am wearing in the picture. I remember wanting to get a Michael Jackson tattoo when I got older. I had the design and everything.
Man, I loved him. I'm truly sad. He will be greatly missed.
Labels: Music
|