ABOUT ME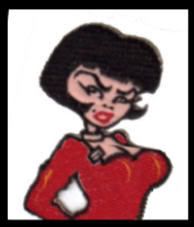 My Blogs allow me to rant and rave about movies, scrapbooking, motherhood, saving money, and whatever else I'd like. I'm finding it to be a great release for me. I hope that others enjoy it as well.


Click my name to find out fun facts about Moi

With the 4th coming up, I thought I'd share some fun crafts for kids along with some other, non-Independence Day crafts.
Star-Spangled Wavers
- Now these are easy, but I think the kids would love em and, if nothing else, they would be good in pictures. Hey, scrapbookers have to think of these things.
Musical Stars and Stripes
(left)
I am thinking of adding some sculptural things to the yard and I remembered seeing these
Toadstool Table and Chairs
on HGTV. Now that I have a kid, these would be fun to do.
While on the subject for HGTV, I also remember seeing these
fairy wings
that I started making at the time, but was distracted. I do intend to finish them soon though. I have some b-days coming up for which they'd be perfect.
Here's some fun ideas from
Family Fun Magazine
:
Edible bangle bracelets
out of jelly beans and thread. They also have a version with fruit loops and peelable licorice thread.
Make "
Rock Candy
" from a box of conversation hearts and two mini peanut butter cups. While these are technically for Valentine's Day, I just had to blog about them now so I don't forget myself.
Labels: Crafting, Holiday/Events
|