ABOUT ME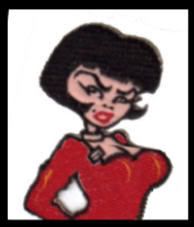 My Blogs allow me to rant and rave about movies, scrapbooking, motherhood, saving money, and whatever else I'd like. I'm finding it to be a great release for me. I hope that others enjoy it as well.


Click my name to find out fun facts about Moi

I've been using
Swagbucks
as a search engine for awhile now. When you do, you can win "swag bucks". These bucks can be used to buy prizes. They have xBox 360s, iPhones, gift cards, movies, shirts, and much more. Here's the
complete list
of prizes offered now.
All you have to do is search, like you would anyway, and the bucks will pop up. I like it because they're easily won. I win them everyday, and I'm not doing anything special to get them.
You
can
also get bucks by using their site to recycle your cell phones and to shop. Click below if you're curious. Hey, it can't hurt.
Now if you're like me, then you don't like giving your email address to anything and everything on the internet. That's why I have 2 accounts, 1 for me business and 1 for all the stuff I sign up for. As you can imagine, I don't check the 2nd as much and don't care that it gets bombarded with junk mail. Just a suggestion.
Labels: Web Sites
|