ABOUT ME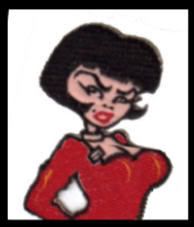 My Blogs allow me to rant and rave about movies, scrapbooking, motherhood, saving money, and whatever else I'd like. I'm finding it to be a great release for me. I hope that others enjoy it as well.


Click my name to find out fun facts about Moi

I did these in 2 transactions so that I could use 2 $3 off $15 cvs coupons that print with your receipts.
CVS has $2 off any CVS brand skin care items
here
. You have to either print them at 50% or copy and paste them to print, otherwise they are huge. They don't expire until 8/31/08 so print several.
I bought
CVS after shave
(my husband liked the smell) $2.59 - $2 cvs coup -$1 ECB =
.59 PROFIT
I also used the $2 skin care coup for
CVS Cotton Swabs
(thanks to
The Centsible Sawyer
for that tip). They were $3.19 - $2 coup - $2 ECB =
.81 PROFIT
2
Alavert
(not shown in pic because my husband took them to work) $6.99 a piece. Buy 2 get $5 ECBs - 2 $4 coups
here
. You might want to use 2 different emails so you have 2 different codes as a precaution. =
.98 for both
Tylenol
is $3.99 - $2 ECB - $2 coup
here
.
FREE!
Revlon
is on sale BOGO Free. I bought 2 emery board sets @ $1.79 -2 $1 Revlon beauty tool coups FIP =
.21 PROFIT
Sally Handsen Nail Pen
is $7.99 but has $5 ECBs plus I got a $3 coup
here
. I did not realize until just now that it said $3 off 2 so I was lucky to have slipped that by. Coup expires 8/31/08.
FREE
for me.
Money Saving Mom
has the full run-down on how to get the best deal off 2.
Evian
1 liter bottled water is BOGO F. They were $1.79 at my store but I hear it varies. I had a $1 coup from
Money Saving Mom
here
. It's another you need to print at 50%. So I got
2 for .79
.
Huggies
Mega pack on sale for $13.99. I had a $1 coupon (I can't remember if it came in the paper or via Huggies directly) I also used the 2 $3 off $15 from cvs on the 2 transactions and so I apply these to the diapers in my mind.
Making my
grand total $7.15
. Considering that diapers were included, I'm happy with that. Of course, I paid with ECBs from last time, so I'm even happier that no money came out of my pocket.
Just a quick note: When I was trying to decide the better deal on diapers this week between a mega pack at CVS on sale $13.99, or jumbo pack at Walgreens on sale $9.49, I came across this
spreadsheet
Baby Cheapskate
did. I'm always forgetting how many diapers come in a pack so it worked great. Thought I'd share.
Labels: $$$ Saving Tips
|