ABOUT ME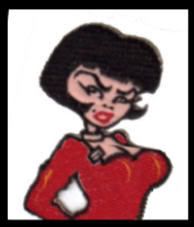 My Blogs allow me to rant and rave about movies, scrapbooking, motherhood, saving money, and whatever else I'd like. I'm finding it to be a great release for me. I hope that others enjoy it as well.


Click my name to find out fun facts about Moi

Tuesday nights have become one of the better nights for tv as far as I'm concerned. First with
American Idol
and then
Hell's Kitchen
. I just love Gordon Ramsay and I'm guessing maybe it's for the same reasons why people seem to love Simon Cowell. There's just something appealing about a person who knows what they're talking about especially when we're bombarded by so many idiots on tv these days.
I like Ramsay more than Cowell because I don't know that I always agree with Simon. Two prime examples: Il Divo and Leona Lewis, who he helped discover. They're really not my thing.
Gordon Ramsay, however, knows his stuff. If I were wanting to be a chef and was lucky enough to end up studying under him, I'd listen to every word. Unlike some of the people who get on his shows and act like they know better. That, or like season 1's winner, Michael who was given the opportunity to work for Chef Ramsay and ended up flaking out on him. I can't even imagine giving up that opportunity. Oh well, I'm babbling, but that just blew my mind.
Last night, on
American Idol,
it was Neil Diamond night. Neil Diamond, now that's great stuff! I'm not a die-hard fan, but I enjoy Neil Diamond music when it comes on the radio.
I thought David Cook out-shined the others, yet again. I'm sorry but Brooke White and Jason Castro need to step it up. They seem to have fallen into a rut. Jason may have given up all together.
As it is right now, it looks like it's going to come down to David Cook and David Archuleta. I guess we'll see.
Labels: TV
|