ABOUT ME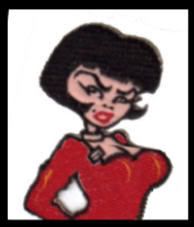 My Blogs allow me to rant and rave about movies, scrapbooking, motherhood, saving money, and whatever else I'd like. I'm finding it to be a great release for me. I hope that others enjoy it as well.


Click my name to find out fun facts about Moi

Before you get started scrapbooking, you may want to decide
what suits your personal style
. To do this, you might want to look at some examples of other people's work. There are several scrapbooking magazines out now; the biggest of which are
Creating Keepsakes
and
Making Memories
. A lot of times these magazines can be found at the local library. There are also tons of resources on the net. I personally recommend
Scrapjazz
and
Two Peas in a Bucket
for their extensive scrapbook galleries.
When looking at others' work, pay attention to
what interests you.
Are you drawn to towards simple pages with single photos? Or do you prefer the pages with all the bells and whistles? If you like the minimal look, the 8.5 x 11 albums may suit your needs. However, if you like the more involved layouts, you'll probably want to go ahead and get the 12 x 12 albums. They give you more room for more pictures. Paper can be more expensive this way but there are usually sales going on at the local craft stores.
The next question you should ask yourself is,
why do you want to scrapbook
? If you are wanting to preserve memories for many years to come, than you will want to concern yourself more with photo safety. You will need to make sure that the items you buy state that they are "photo safe" or "acid free". If, on the other hand, you are wanting to scrapbook simply as a hobby and are not as concerned with the longevity of your pages, than you can be a little more free with what embellishments you use.
Another option for those looking to begin a new craft would be
altered books or altered art
. This is something that is very popular right now and can be a wonderful way to express yourself without as many worries about preservation. There are some wonderful examples of altered art out on the web.
Whether it's scrapbooking or altered art, if the purpose is to keep your family's legacy alive,
journaling
can be the most important element next to the photos. Just remember to use acid free pens, stickers, etc.
Scrapbooking can be very addictive, and you can easily find yourself buying all kinds of things that you will never use. Hopefully, asking yourself these questions before you go buy supplies will help save you both time and money.
Labels: Scrapbooking
|