ABOUT ME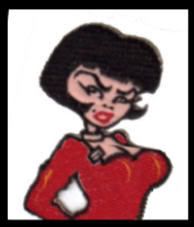 My Blogs allow me to rant and rave about movies, scrapbooking, motherhood, saving money, and whatever else I'd like. I'm finding it to be a great release for me. I hope that others enjoy it as well.


Click my name to find out fun facts about Moi

Maybe you've done breakfast in bed before, but
A Bit O' Shine
suggests presentation can go along way with these Rosy cups.
You can't go wrong with
cookies or candy hearts
in my book, so why not combine them? That's what
Evil Mad Scientist Laboratories
did.
-or-
Do like
Muffin Tin Mom
did and just put the love on anything, like with this Oreo.
My Coin Purse
blog has a tutorial for a
Bee Mine Bee Magnet
that I thought was funny.
Make a valentine spinner as naughty or nice as you want to be.
This tutorial shows you how
.
I've been looking for ideas for men and can't really share any I plan to use just in case my husband were to see. Here's one I did find:
Custom Beer Labels
. I know it doesn't scream romance, but hey it's their day too. Why not give em what they want...I mean the beer.
Check out great sites like Romantic-ideas.org for more ideas.
Labels: Crafting, Holiday/Events
|