ABOUT ME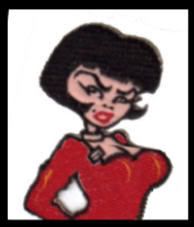 My Blogs allow me to rant and rave about movies, scrapbooking, motherhood, saving money, and whatever else I'd like. I'm finding it to be a great release for me. I hope that others enjoy it as well.


Click my name to find out fun facts about Moi

My husband is taking part of Movember, where men grow their mustaches for the month of November in order to raise money for the Prostate Cancer Foundation and the Lance Armstrong Foundation (LIVESTRONG). My husband is part of
Team Mo Bicless
.
If you can't afford to give yourself, you can join the team to help support and to help raise money for the cause. You do not have to grow a mustache to be part of the team, so ladies you can join too as a MO Sista "A woman who loves a mustache".
After losing my father to cancer, I've heard so many people's stories that I don't believe there's anyone who hasn't been affected by cancer.
I am selling sets of
mustache magnets and stickers here
. A portion will go towards the charity.
Labels: Personal
|